New! Nursing School Campus in Tucson, AZ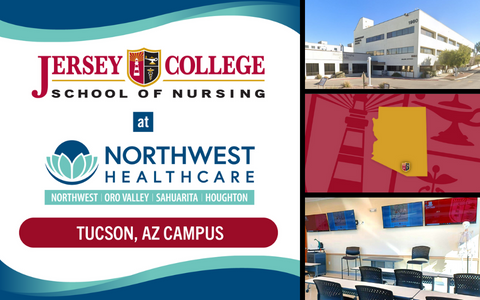 To train additional caring and skilled nurses, Jersey College and Northwest Healthcare have collaborated to establish a School of Nursing on Northwest's Tucson campus, serving the greater Tucson region. The Jersey College Hospital-Based Professional Nursing Program at Northwest is a six-semester program, culminating in an associate degree in nursing, providing its graduates with opportunities to become a registered nurse. Inaugural classes begin in January and students can enroll now.
"Jersey College and Northwest Healthcare have worked together to develop a unique nursing education experience," said Greg Karzhevsky, Chancellor of Jersey College. "From our initial meetings, the Northwest Healthcare leadership teams have shared our vision for this collaborative model of educating future nurses to care for patients in the Tucson region."
With more than 12,000 square feet of classroom and office space, the Tucson program combines the teaching experience of a college and the clinical experience of a hospital. This hospital‐based track offers students the ability to learn the art and science of nursing from within a hospital setting. Students are able to experience a seamless transition from classroom theory to clinical application. To learn more about Jersey College at Northwest Healthcare or begin the enrollment process, visit www.jerseycollege.edu/tucson or call (520) 210 – 8900.