New! Nursing School Campus in Fort Wayne, Indiana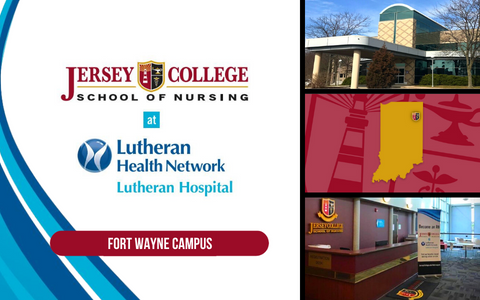 Jersey College and Lutheran Health Network (LHN) welcomed the first class of students to the School of Nursing on Lutheran Hospital's campus on Monday, July 26, 2021. The collaboration between Jersey College and Lutheran Health Network was established to train additional nurses to serve the greater Fort Wayne region. Upon the announcement of the new nursing program, there was an overwhelming response of interested individuals.
"There were nearly 700 inquiries about the hospital-based nursing program at Lutheran Health Network and the first class of 20 students was filled with very capable and qualified candidates in record time," says Natalie Seaber, RN, MHA, CNML, Market CNO, Lutheran Health Network.
The Jersey College Professional Nursing Program at Lutheran Hospital is a six-semester program, culminating in an Associate of Science degree in nursing, providing its graduates with opportunities to become a registered nurse.
"My goal is to work in a NICU setting," says Emma Henman, a student in the first cohort at Jersey College. "My niece is my inspiration for pursuing an education at Jersey College because I have helped care for her since she was born. She has cerebral palsy and is on the autistic spectrum. It has been really motivating for me to see her make strides and grow as an individual."
"It is incredibly rewarding to help guide our students on their journey to become a nurse," says Rachel Birri, Jersey College Campus Administrator. "We watch them grow, learn and go out to serve those in their own community; It's a beautiful thing."
With more than 8,000 square feet of classroom and office space, the Fort Wayne program combines the teaching experience of a college and the clinical expertise of a hospital. In this hospital-based track, students are able to experience a seamless transition from classroom theory to clinical application in a hospital setting.
"Our thanks goes out to everyone at LHN for their support and assistance to bring this collaboration to fruition. LHN looks forward to working with Jersey College in developing a future generation of nurses," says Seaber.
To learn more about Jersey College at Lutheran Health Network or begin the enrollment process, click here: Jersey College - Fort Wayne Nursing School at Lutheran Hospital or call (260) 306-5355.