Our NurseLife Heroes in Action - Grad Katrina S.
Katrina is a Pediatric Nurse and chose nursing because "it's where her heart was called to be". She knew that she was destined to do more to help people and has been working at the same Children's Hospital for the past five years - starting as a CNA to LPN to now, RN.
Her journey to become an RN coincided with her journey to motherhood. She shared that, "During the program I was blessed with my beautiful daughter. I was able to complete the program as a new mom thanks to the support of my family and staff at Jersey College."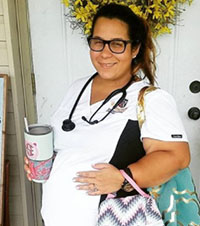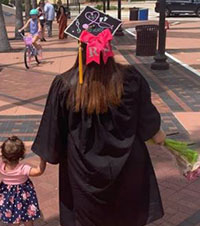 After completing the nursing program, Katrina passed her NCLEX on the first attempt. She says, "Jersey College helped me pass my NCLEX the first time around. I felt prepared and confident when I sat for my boards thanks to Jersey College."
Today, as an RN, Katrina celebrates her 4th DAISY Award nomination. She shared that, "Each daisy award nomination is special to me. They are always unexpected and remind me why I chose pediatrics even on my toughest days. I put my heart and soul into what I do. These DAISY's mean the world to me and I'm blessed to have been given this opportunity in life to help heal! I cried while reading each nomination, especially the one from my pediatric patient, her handwriting and sweet words were so precious. I love being a pediatric nurse!"
As a Pediatric Nurse, she says the most rewarding part of her job is "being able to be a part of the road to recovery for my kids and their families". She shared, "Our patients and their families are left in our hands at their most vulnerable times and just building that relationship and sense of trust is everything to me."
It is no surprise that Katrina is a multi-time nominee for a DAISY award, as her passion for nursing and helping others, is very evident.
Katrina hopes to inspire future nurses with her advice that, "The opportunities for a nursing career are endless. Let your heart decide what career path is best. Whether it's the ER setting, skilled facility, pediatrics, or whatever specialty you choose - make sure it's one you have your heart set on."
"I know I made the right choice."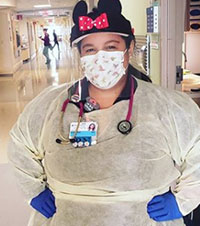 Congratulations, Katrina! We are SO PROUD of each and every one of our grads and students! You are all heroes in our eyes!