New! Nursing School Campus in Port Charlotte, Florida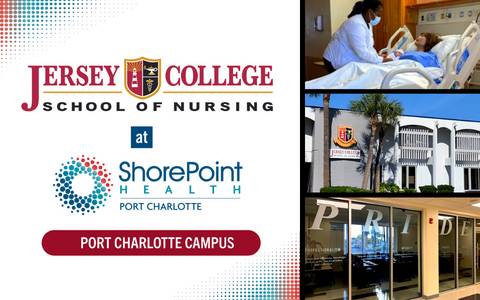 To train more skilled clinical caregivers, Jersey College's School of Nursing has established a nursing school on the campus of ShorePoint Health Port Charlotte to serve the greater Charlotte County area. The need for nurses has been high for some time due to an aging population and the pandemic has only increased the need.
With over 7,000 square feet of classroom and office space, the Port Charlotte campus facility offers students a unique opportunity in nursing education; one that combines the teaching experience of a college and the clinical expertise of a hospital. Believed to be one of the first of its kind in Charlotte County, this hospital-based, Professional Nursing program offers students the ability to learn the art and science of nursing from within the hospital setting. Students are able to experience a seamless transition from classroom theory to clinical application, all while learning the values, philosophies, and practices of the hospital.
The Jersey College Port Charlotte Nursing School at ShorePoint Health Port Charlotte is a six semester program culminating in an Associate of Science degree in Nursing and providing its graduates with opportunities to become a Registered Nurse.
To learn more about Jersey College at ShorePoint Health Port Charlotte or begin the enrollment process, click here: Jersey College – Port Charlotte, FL Nursing School Campus or call 941-500-3331.