New! Nursing School Campus in Melbourne, FL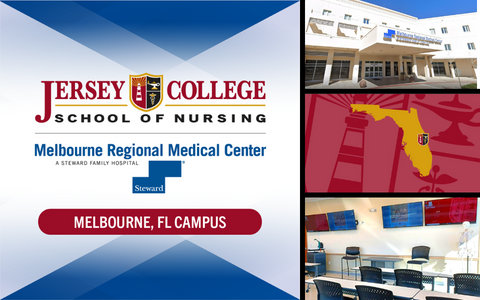 In order to train additional caring and skilled nurses, Jersey College and Steward Health Care have collaborated to establish a School of Nursing on Melbourne Regional Medical Center's campus, serving the entire Space Coast. The Jersey College Hospital-Based Professional Nursing Program at Melbourne Regional Medical Center is a six-semester program, culminating in an Associate Degree in nursing, providing its graduates with opportunities to become a registered nurse. Inaugural classes begin in January and students can enroll now.
"This hospital-based program will provide students a unique nursing education experience, said Greg Karzhevsky, Chancellor of Jersey College. "By combining Jersey College's experience in nursing education with the patient care experience of Steward Health Care, we are able to collaborate toward a shared vision that will benefit the nursing workforce in Brevard County."
With more than 10,000 square feet of classroom and office space, the Melbourne program combines the teaching experience of a college and the clinical expertise of a hospital. This hospital‐based track offers students the ability to learn the art and science of nursing from within a hospital setting. Students are able to experience a seamless transition from classroom theory to clinical application.
"Nursing is one of the fastest growing occupations in the nation and we are pleased to host this unique nursing program in Brevard County," said Ron Gicca, President of Melbourne Regional Medical Center. "It is truly an honor to partner with Jersey College to bring the next generation of nurses to the Space Coast."
To learn more about Jersey College at Melbourne Regional Medical Center or begin the enrollment process, visit www.jerseycollege.edu/melbourne or call (321)378-0097.