New! Nursing School Campus in Jenkintown, PA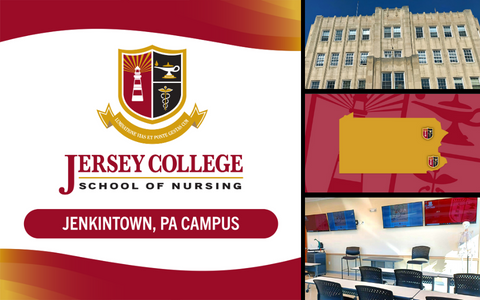 Jersey College has opened a campus in Jenkintown to train caring and skilled nurses for Southeastern Pennsylvania. This will be Jersey College's second nursing campus in Pennsylvania and 15th campus nationwide. The Jenkintown Campus offers a six-semester program approved by the Pennsylvania Department of Education and Pennsylvania State Board of Nursing. Graduates will earn an Associate Degree in Nursing and have the opportunities to sit for the national nursing licensing exam (NCLEX). Inaugural classes begin May 1, 2023 and students can enroll now.
Jersey College Chancellor Greg Karzhevsky states "Jersey College has graduated over 10,500 caring nurses since 2004. Our faculty, administration, and staff looks forward to educating the future healthcare workforce for Southeastern Pennsylvania"
A nursing career offers many rewarding factors but most of all it helps communities receive the support needed to stay healthy and thrive. The Jenkintown Nursing School campus at Jersey College offers an accelerated nursing program that provides an opportunity for Pennsylvania residents to begin their journey toward a Registered Nurse career with hands-on training. Individuals with no previous nursing experience are welcome to apply. The campus offers more than 30,000 square feet of classroom, office, and simulation/skills lab space, for students to experience a seamless transition from classroom theory to clinical application.
With a sole focus on nursing, Jersey College's passion is educating the next generation of nurses. The college credits the success of over 10,500 graduates and exceptional NCLEX pass rates to the family atmosphere and genuine support offered across its 15 campus locations to their nursing students. The Jenkintown location is now open and welcoming the public for tours and information sessions to learn more about enrolling in the nursing program. If you are interested in enrolling for classes starting May 1st, we recommend you call today as the class is anticipated to fill very quickly.
For additional information and to schedule an appointment visit www.jerseycollege.edu/jenkintown or call (215) 650-6301.