NurseLife Exploration Camp Experience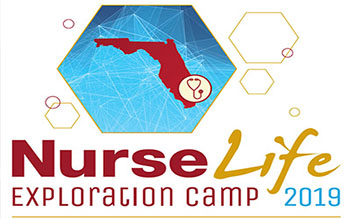 Jersey College and Broward County Public Schools partnered to offer the NurseLife Exploration Camp to Broward County youth this summer. The camp offered hands-on learning for 24 students during two, three-week camp sessions. Each day of camp was action-packed with lessons that included hands-on practice with mannequin "patients" in Jersey College's nursing simulation lab.
Jersey College's Chancellor, Mr. Greg Karzhevsky stated, "Jersey College could not be more proud of the Broward County Public School students that participated in NurseLife Exploration Camp. Their engagement and initiative was inspirational and demonstrated the value of this unique initiative. Jersey College hopes to expand NurseLife Exploration Camp to all of our campuses in future years."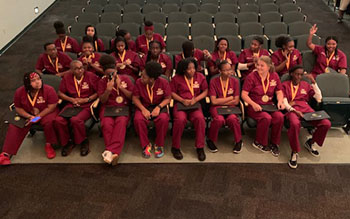 The Camp hosted a Commencement Ceremony to celebrate the success of the 24 students. During the ceremony, each student was presented with a medal and a Certificate of Participation. Campers also received their certificates from the American Heart Association for their certification in CPR/AED/First Aid.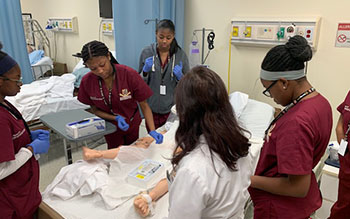 Alexia L., a camper shared, "It was a combination of fun and education, especially with the participation of all the teachers. I learned a multitude of information and it was easy to understand and comprehend due to the way it was explained. I would definitely do this program again and recommend it to other people wanting to purse a nursing career." Another camper shared, "My experience at the Nurse Exploration Camp was very amazing it was a once in a life time chance and I'm glad I got to be a part of it!"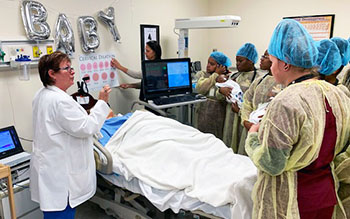 During simulation lab experiences, the nursing professors set up real-life scenarios with mannequins to challenge campers to step into the role of a nurse and practice the skills they learned. Some of these activities included: head to toe patient assessments, tracheotomy care, inserting IV catheters, baby delivery, IV insertions for a blood draw, and more. The campers dressed in real nursing scrub uniforms for class and also wore masks, gloves, and other gear in the lab to make the scenarios feel more life-like.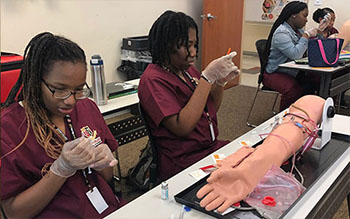 In the classroom, campers learned about dosage calculations, medical terminology, critical thinking skills, and the different roles of a nurse. The class welcomed nurses from the community as guest speakers to learn more about different nursing specialties and the wide array of available nursing career opportunities. Additionally, Jersey College RN students played the roles of victims and patients during a disaster drill where campers acted as nurses and triaged patients with multiple injuries.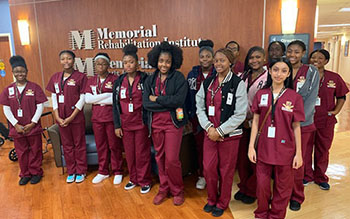 As a culminating experience, campers had the fantastic opportunity to experience a real day in the life of a nurse through a field trip to Memorial Regional Hospital South in Hollywood. During the field trip, the class met Nurse Managers and toured the facility to experience the Rehab floors, Emergency Department, Acute Care floors, and the surgical area. On the last day of camp each student presented their final projects where they chose a nursing specialty of interest and explained its intricacies. Camper Emma A., shared that, "I really enjoyed the hospital, I learned a lot and they were very nice. The overall experience was very good, I enjoyed visiting each floor and meeting the nurses and staff." Emma's presentation for her nursing specialty was on the role of a Nurse Anesthetist in which she plans to become in the future, following in father's footsteps.
"This early exposure to nursing can make a big difference in whether a student chooses to pursue nursing after high school," said Marcia Bynoe, Director for BCPS Coordinated Student Health Services. "We hope the camp will open their eyes to the various pathways that a nursing career offers and expand their view of the profession."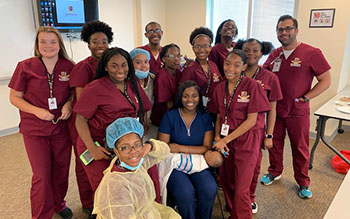 "Watching the campers enhance their knowledge about nursing and witnessing the excitement they showed each day was something very special," said Dennis Garberg, Jersey College's Fort Lauderdale Campus Administrator. "This camp experience has given these 24 youth students a glimpse at their future opportunities as nurses in our community, and I hope to see them back at our campus as nursing students in the future."